あなたの公-差-転
公 public + 差 difference + 転 change
公共空間として誰でもいつでも入れる場所、自分と違うものと出会う場所、何かをこれから変えていく刺激になる場所。パブリック=公共の概念そのものを違う方向へ転回していく場所です。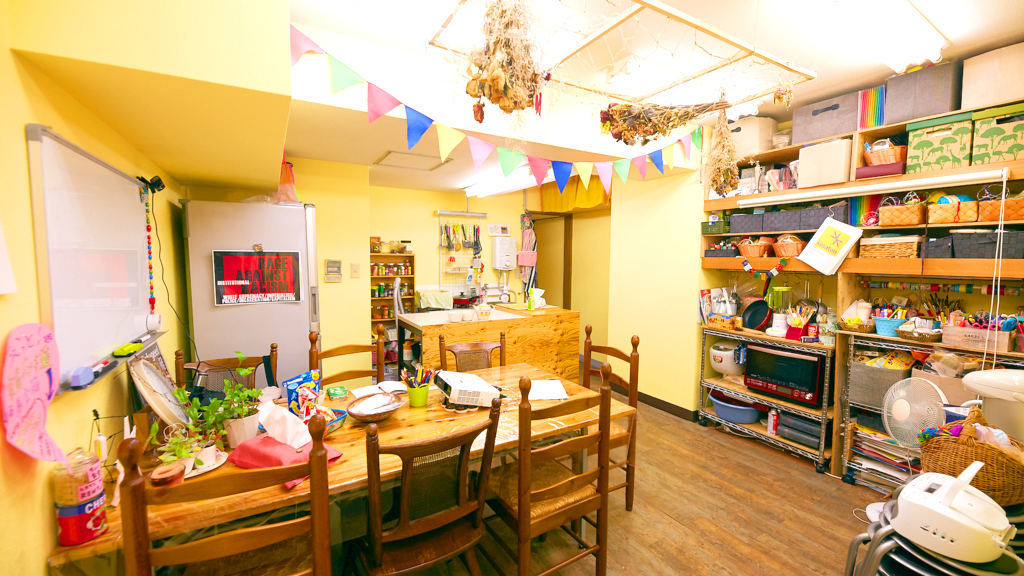 あらゆる方向に向かっている人が一時的でもクロスする場所として、生き方、考え方、見方が必ず統一しなくて、自分のスタンスと違って、さまざまな立場を持つ人と出会うことで新しい気づきがお互いに生まれてきます。
隣にいる人は自分と異なる国籍、ことば、ジェンダー、セクシュアリティ、障がい、視点、価値観をもつ前提で、「差異」を大事にする空間。ここはあらゆる違いを認める場所です。さまざまな人が安全に共有できるスペースを作っていきたいです。
自分の当たり前のことをひっくり返す場所として固定概念を壊して、自分の価値観を問い直す機会を設けます。そのプロセスの中表現と対話が重要な軸になり、表現の自由と他者と向き合う場所、多様な声が上げられると同時に他人の声に耳を傾けられる場所になりたいです。
営業時間(コロナ感染拡大防止のため時間を短縮しています)
水曜日 12:00-18:00
日曜日12:00-18:00
アクセス
167-0041 東京都杉並区善福寺3-2-14善福寺ゴールデンハイツ1F (kumonの隣)
メール: contact@kosaten.org
西武新宿線の上石神井駅から徒歩で15分(か西荻窪駅行他バスにて「善福寺」バス停下から1分)。JR中央線、西荻窪駅北口、2番バス停より上石神井駅行他バスにて「善福寺」バス停下から1分。東京メトロ丸の内線・JR荻窪駅北口・0番バス停より武蔵関駅行他バスにて「善福寺」バス停下車から0分。(南善福寺行きのバスは善福寺バス亭に停車しません)
kosaten「あなたの公-差-転」
公 public x 差 difference x 転 change
A place where participants become active subjects, where you can make mistakes, create noise together, connect with community, join in a network of the local and the global and destroy hierarchy, a place made by everyone who comes here!
In a small corner of Zempukuji, Suginami ward, Tokyo, caught on the border of several jurisdictions, there is somewhere that refuses to be one or the other. This intersectional zone welcomes new performative bodies to enact themselves and revel in the evasion of labelling.
Here local people and outsiders, people of all sorts of creativity, knowledge and communication skills come together in a sharing of ideas and action, interacting and dispersing upon their different roads
On first impressions it might look like just a cute space, but it has some venom there somewhere too, so you can decide whether to engage in heated debate or just relax and chill out.
A space to slowly face yourself and others.
It is a place full of contradictions but this also reflects the importance placed on non-categorization.
A space for both noise and quiet, jumping up and getting lost, screaming and whispering.
Opening Times

Open Every Wednesday and Sunday from 12:00-18:00 (time shortened as covid-19 precaution)
Access
167-0041 Tokyo Suginami-ku Zenpukuji 3-2-14 Zenpukuji Golden Heights 1F (next to kumon)
Email: contact@kosaten.org
Kosaten is a 15 min walk from Kamishakujii Station on the Seibu-Shinjuku line. You can also catch a bus from this station (from the south side) in the direction of Nishiogkubo Station and get off at "Zenpukuji" and we are just 1 min from the bus stop.
JR Chuo/Sobu Line Ogikubo Station: Take any bus (except that going to "Minami Zenpukuji") from Bus stop "No. 0" on the North side of the station. Get off at "Zenpukuji".
JR Chuo/Sobu Line Nishiogikubo Station: Take any bus from Bus stop "No. 2" from the North side of the station. Get off at "Zenpukuji". *Please note the Chuo line does not stop at Nishiogikubo station on weekends or holidays (but the Sobu line does)
Important:Kosaten is now more of an accessible space – we have moved to 1st floor and also have a wheelchair accessible toilet and space for diaper changing. There is still more we need to do to make our space open to more people, so if you have any suggestions please let us know!