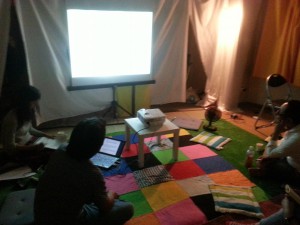 At kosaten we often screen independent domestic and foreign films which you rarely get a chance to see in the cinema. With a focus on art films and documentaries we actively try to present the work of independent filmmakers. We not only screen the works but also hold discussions around issues touched upon in the films and sometimes even invite the directors themselves.
With a screen, projector, speakers etc. we can provide a space for up to 30 people to watch a film together in a homely atmosphere.
We also have facilities for visitors to watch films in our dvd collection on the small screen when they come to visit.